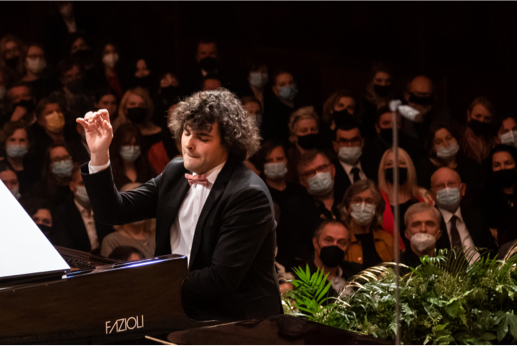 A Tribute to George Flynn Featuring Pianist Martín García García
Location
The Morgan School
71 Killingworth Turnpike, Clinton, CT 06413
Directions
REPERTOIRE (60')
F. Chopin Waltz in E minor Op. Posth.
F. Chopin Waltz Op. 34 No. 2 in A minor
F. Chopin Waltz Op. 34 No. 1 in A flat major
F. Chopin Waltz Op. 64 No. 2 in C sharp minor
F. Chopin Nocturne Op. 55 No. 2 in E flat major
F. Chopin Scherzo Op. 31 No. 2 in B flat minor
F. Chopin Impromptu Op. 51 No. 3 in G flat major
F. Chopin Ballade Op. 23 No. 1 in G minor
F. Chopin Ballade Op. 47 No. 3 in A flat major
F. Chopin Polonaise Op. 53 in A flat major
Biography
Martín García García is a pianist born in Gijón, Spain. He began his musical studies at the age of 5, with his teachers Natalia Mazoun and Ilyà Goldfarb. Graduated from Reina Sofia School of Music, he studied there for more than a decade with Galina Eguiazarova—receiving from Her Majesty the Queen Sofia the prize for the Best Student of the chair—he is also Master in Piano by Mannes School of Music in New York.
Biography Continued
Martin has won first prize in several national and international competitions, highlighting his victory at 2021 Cleveland International Piano Competition, and his 3rd Prize at XVIII International Chopin Piano Competition (and the special award for the Best Concerto), the most relevant competition on the world stage. Furthermore, he got the 1st Prize at 2018 International Keyboard Institute & Festival, held in New York, which allowed him to obtain the scholarship with which he was able to establish himself there. He resided in New York City for the past two years completing his artistic training with the distinguished pianist Mr. Jerome Rose.
He has given concerts as a soloist in venues around Europe and United States, receiving very positive reviews from musicians and pianists of the stature of Vladimir Kraniev, Dmitri Alexeev, Arcadi Volodos, Dimitri Bashkirov, Joaquín Achúcarro or Tatiana Copeland (Sergei Rachmaninov's grandniece), among others. He has also been invited to the International Ruhr Piano Festival under the sponsorship of Maestro Radu Lupu.
After all the success of the Chopin Competition in Warsaw, held during October 2021, Martín has planned several tours in Japan, Europe, and USA.