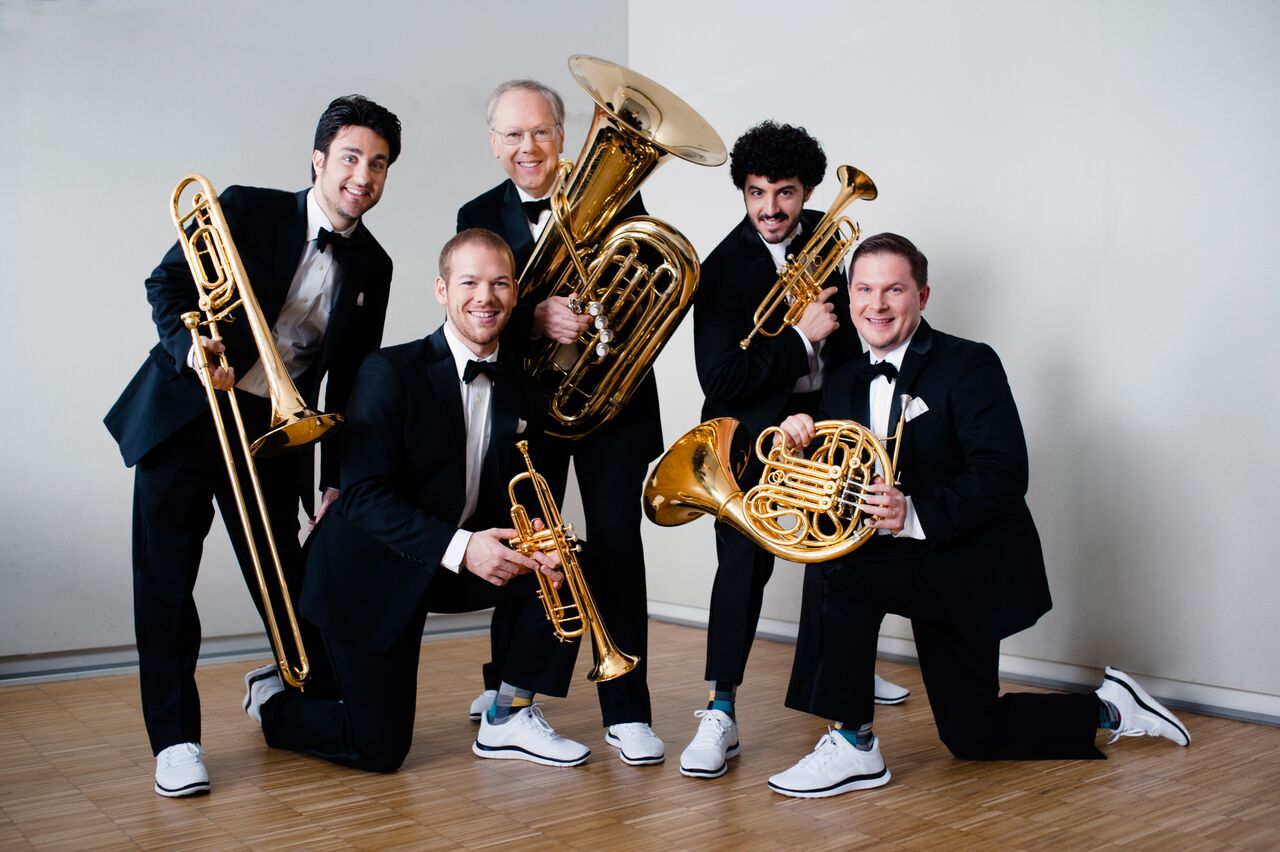 Canadian Brass
Sunday
September 25th
2022
4 PM
Location
The Morgan School
71 Killingworth Turnpike, Clinton, CT 06413
Directions
Sunday
September 25th
2022
4 PM
Biography
With an international reputation as one of the most popular brass ensembles today, Canadian Brass has truly earned the distinction of "the world's most famous brass group."
With a discography of over 130 albums and an extensive world-wide touring schedule, Canadian Brass is an important pioneer in bringing brass music to mass audiences everywhere. They have sold well over 2 million albums worldwide, with 1.2 million sold in the Nielsen Soundscan era alone (since 1991). They continue to score Billboard chart positions — like with their rousing recording of patriotic songs and marches, Stars & Stripes: Canadian Brass Salute America, which spent 8 weeks in the Top 25 on the Billboard Classical Chart, peaking at #2! Touring legends with an enthusiastic fan base, the Canadian Brass play to packed houses everywhere throughout the USA, Canada, Japan and Europe.
Biography Continued
Friends Chuck Daellenbach and Gene Watts first came together in 1970 to form a brass quintet — a chamber music setting not entirely new, but never before having garnered the success and storied career Canadian Brass would achieve over the next 40 years. Initially, Gene took on the role of developing new repertoire while Chuck was the moving force in marketing, publishing and managing the business. Three empty chairs were quickly filled and together, the group's imagination and consummate musicianship elevated the art of the brass quintet to what it is today. Here was not only an opportunity to explore the possibilities of an all-brass chamber group but a challenge to bring the sound and the excitement of brass music to new audiences.
Masters of concert presentations, Canadian Brass has developed a uniquely engaging stage presence and rapport with audiences. Each of their concerts will show the full range from trademark Baroque and Dixieland tunes to new compositions and arrangements created especially for them – from formal classical presentation to music served up with lively dialogue and theatrical effects. The hallmark of any Canadian Brass performance is entertainment, spontaneity, virtuosity and, most of all, fun – but never at the expense of the music:
Whatever the style, the music is central and performed with utmost dedication, skill and excellence.
Canadian Brass is: founding member Chuck Daellenbach (tuba), Brandon Ridenour and Caleb Hudson (trumpets), Achilles Liarmakopoulos (trombone) and Jeff Nelsen (horn).