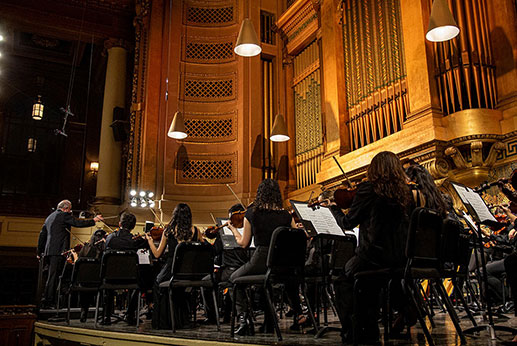 Yale Symphony Orchestra
Sunday
February 19th
2023
3 PM
Location
The Morgan School
71 Killingworth Turnpike, Clinton, CT 06413
Directions
Sunday
February 19th
2023
3 PM
Program
Igor Stravinsky's "The Rite of Spring"
Rimsky-Korsakov's "Scheherazade"
Biography
The Yale Symphony Orchestra was founded in 1965 by a group of students who saw the growing potential for a large orchestral ensemble to thrive on campus. The YSO provides a means for students to perform orchestral music at the conservatory level while taking advantage of all that Yale, a liberal-arts institution, has to offer.
The YSO boasts an impressive number of alumni who have gone on to successful musical careers with: New York Philharmonic (Sharon Yamada, 1st violin), the Boston Symphony Orchestra (Haldan Martinson, principal 2nd violin, and Owen Young, cello), the Los Angeles Philharmonic (David Howard, clarinet), the San Francisco Symphony (the late William Bennett, oboe), Philadelphia Orchestra (Jonathan Beiler, violin), Toronto Symphony (Harry Sargous, oboe, ret.) and the Israel Philharmonic (Miriam Hartman, viola); as well as music director of the Baltimore Symphony Orchestra Marin Alsop; National Public Radio commentator Miles Hoffman; composers Michael Gore, Robert Beaser, Conrad Cummings, Stephen Paul Hartke, Robert Kyr, and more.
Biography Continued
Throughout its history the YSO has been committed to commissioning and performing new music. Notably, the YSO presented the European premiere of Leonard Bernstein's Mass in 1973, the world premiere of the definitive restoration of Charles Ives' Three Places in New England, the U.S. premiere of Debussy's Khamma, and the East Coast premiere of Benjamin Britten's The Building of the House. The YSO programs orchestral works written by new and emerging composers, as well as lesser heard works by established and obscure composers.
The YSO has performed with internationally recognized soloists; including Yo-Yo Ma, Frederica von Stade, Emmanuel Ax, David Shifrin, Thomas Murray, and Idil Biret. Each year the YSO is proud to perform major solo concerti played by the student winners of the William Waite Concerto Competition.
The YSO has performed at New York City's Carnegie Hall, Avery Fisher Hall at Lincoln Center, and St. Patrick's Cathedral. In the past ten years, the YSO has toured domestically and internationally, including a 2010 tour of Turkey with acclaimed pianist Idil Biret. Ms. Biret rejoined the orchestra for a recording of Paul Hindemith's piano concerti, which were released in 2013 on the Naxos label. Past tours have brought the orchestra to Portugal, Korea, Central Europe, Italy, and Brazil. The YSO completed its first tour of Russia in May of 2017.
The YSO is famous for its legendary Halloween Show, a student-directed and -produced silent movie, performed around midnight in full costume. Long a Yale tradition, the Halloween Show sells out Woolsey Hall days in advance, and the production details and storyline remain closely guarded secrets until the night of performance. Recent cameo film appearances include James Franco, Woody Allen, Alanis Morisette, Rosa DeLauro, Jodie Foster and Jimmy Kimmel.
The YSO music directors include Richmond Browne, John Mauceri, C. William Harwood, Robert Kapilow, Leif Bjaland, Alasdair Neale, David Stern, James Ross, James Sinclair, Shinik Hahm, George Rothman, and Toshiyuki Shimada. This year is William Boughton's third year as Director.