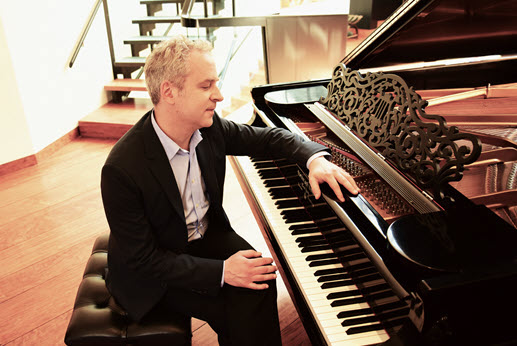 Jeremy Denk, Pianist
Location
William Stanton Andrews Town Hall
54 E Main St, Clinton, CT 06413
Directions
Program:
J.S. BACH: Partita No. 5 in G major, BWV 829
SCHUBERT: Impromptus, D. 935
Samuel COLERIDGE-TAYLOR: "They Will Not Lend Me a Child"
'Blind' Tom WIGGINS: The Battle of Manassas
Scott JOPLIN/Louis CHAUVIN: Heliotrope Bouquet Frederic RZEWSKI: "Winnsboro Cotton Mill Blues"
BEETHOVEN: Piano Sonata No. 32 in C minor, Op. 111
Biography
Jeremy Denk is one of America's foremost pianists, proclaimed by the New York Times 'a pianist you want to hear no matter what he performs'. Winner of a MacArthur "Genius" Fellowship, and the Avery Fisher Prize, he has also been elected to the American Academy of Arts and Sciences. Denk has appeared many times at Carnegie Hall and in recent years has worked with such orchestras as Chicago Symphony, Philadelphia Orchestra, New York Philharmonic, Los Angeles Philharmonic, San Francisco Symphony, and Cleveland Orchestra. His memoir Every Good Boy Does Fine was published by Penguin Random House in March 2022.
Biography Continued
Denk is also known for his original and insightful writing on music, which Alex Ross praises for its "arresting sensitivity and wit." He wrote the libretto for a comic opera presented by Carnegie Hall, Cal Performances, and the Aspen Festival, and his writing has appeared in the New Yorker, the New Republic, The Guardian, and on the front page of the New York Times Book Review.
Denk's recording of the Goldberg Variations for Nonesuch Records reached No. 1 on the Billboard Classical Charts. His recording of Beethoven's Piano Sonata No. 32 in C Minor, Op. 111 paired with Ligeti's Études was named one of the best discs of the year by the New Yorker, NPR, and the Washington Post, and his account of the Beethoven sonata was selected by BBC Radio 3's Building a Library as the best available version recorded on modern piano. Denk has a long-standing attachment to the music of American visionary Charles Ives, and his recording of Ives's two piano sonatas also featured in many "best of the year" lists. His recording c.1300-c.2000 was released in 2018 with music ranging from Guillaume de Machaut, Gilles Binchois and Carlo Gesualdo, to Stockhausen, Ligeti and Glass. His latest album of Mozart piano concertos, performed with the Saint Paul Chamber Orchestra, was released in September 2021 on Nonesuch Records.